Zurich in Switzerland
What is Zurich all about? Zurich is a large city in Switzerland with a population of about 415,000 people and is the largest town in the canton of Zurich. Zurich is situated at lake Zurich and sits on the banks of the river Limmat. 
Zurich is a central traffic and logistics hub in Switzerland, and one of the big financial centres in Europa and in the world. Despite the rather modest population Zurich, as a city, enjoys sort of world status. 
Half a day in Zurich is, by far, not enough to see too much of this city. Zurich is situated on the river Limmat and Lake Zurich. The historic city centre still shows much of the old building structures but also impressively shows how the city developed from the Middle Age to our modern times.
---
Grossmuenster Zurich
Interesting Places in Zurich
Zurich is an old city, meaning the city has lots of old houses especially in the historic city centre. Also Zurich is a city full of churches, which mostly can be visited. What are interesting sights in Zurich, one should have seen?
Zurichsee - Lake Zurich
Niederdorf and Old Town
Zurich Opera House
Zurich Cathedral - Grossmuenster
Bahnhofstrasse
Confiserie Spruengli
Frauenmuenster Church
The Limmat Quay - Limmatquai
Lindenhof
Western Quarters of Zurich
Zurich City Hall
The Voltaire Caberet
St. Peter Church
Café Odeon
As usual, this is only a selection. For the traveller just passing through, not having much time, a quick visit at the city centre around the Grossmuenster, will help a lot. In case you have much more time on your hands, it is helpful to go through the narrow lanes and alleyways. Open your eyes and you will see all the small things on your way and maybe you will also find the perfect scene to capture with your camera.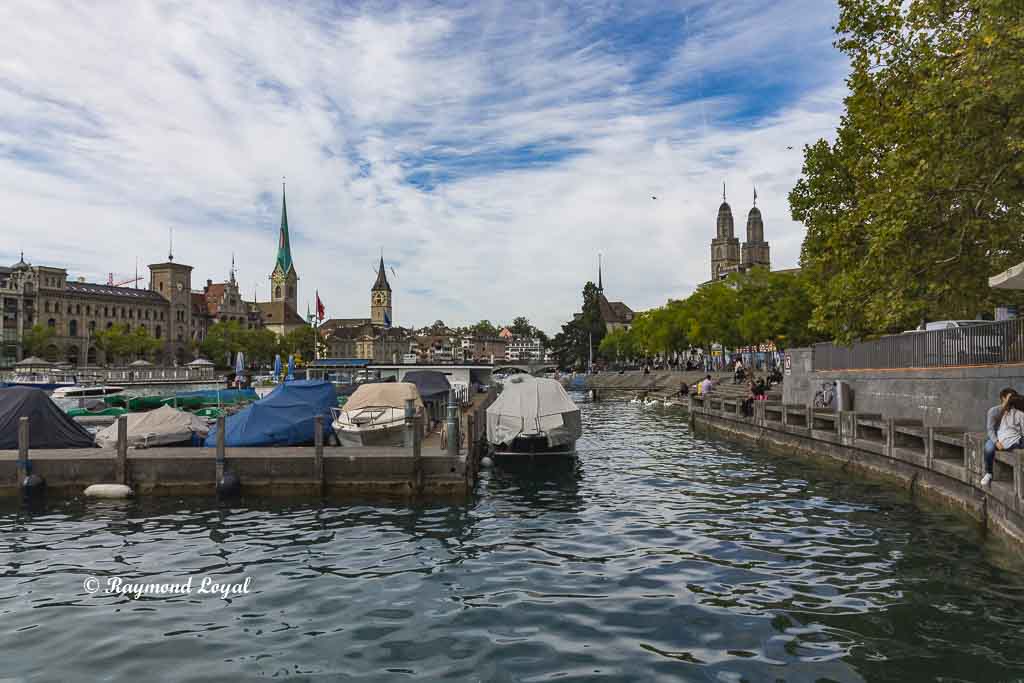 Above picture shows the river Limmat and the old building alongside the river. At the very left the historic town hall can be seen.