Mont Saint-Michel
Le Mont Saint-Michel is a small village located in Normandie / France. The village is famous for its monastery / fortress which sits isolated on a small island in the Baie du Mont Saint-Michel. 
The village Mont Saint-Michel is also the gate to Brettany in France. 
Le Mont Saint-Michel can be reached over a wooden bridge construction that connects the site with the mainland. At low tide one could also reach the site on foot, if you know the way. Otherwise the standard way to Le Mont Saint-Michel is either on foot or by bus over the bridge. 
The traveller can see Mont Saint-Michel over a far distance sitting isolated in the Baie.
Le Mont Saint-Michel is an UNESCO world-heritage site and the most well-known landmark in France.
---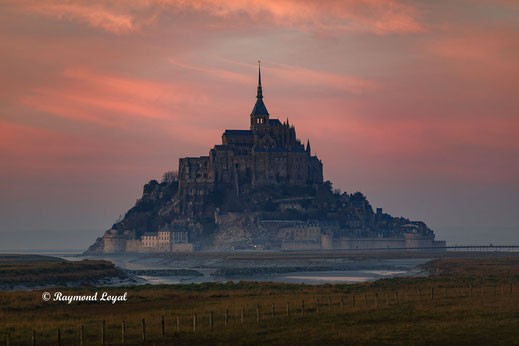 When you go to Normandy and make the effort to visit Le Mont Saint Michel then you have to shoot during last light, if you are a photographer. Which is what I did. We had an extraordinary day and last light was really good. There were not so many shots but the few are sufficient.
Going to that place is a must. I must admit, I really do love mont saint michel.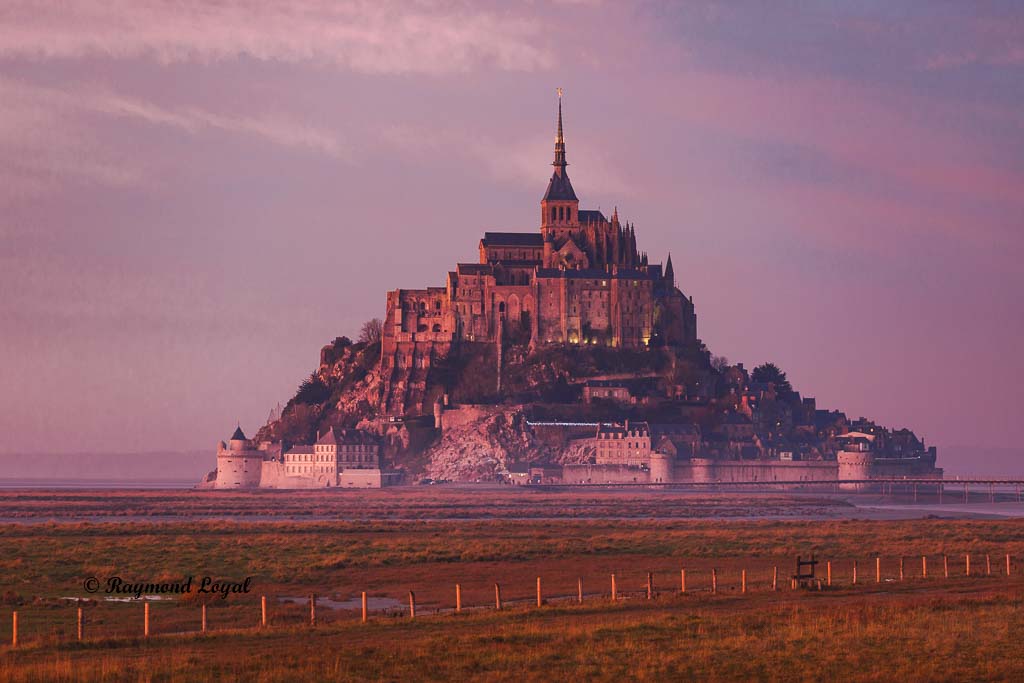 Even looking at that picture when you are back home provides the feeling of tranquility. Looking over the meadows and over to Mont Saint-Michel is quite an experience. Great does not describe it, the scene is unique. And with unique I mean you will not find such a place elsewhere. Of course there are similar places but that small island is special. 
Imagine only a couple of houses within the ramparts of the fortress, chapels and churches. You make your way up to the monastery which is secured like a castle. When you are on the upper plateau you have a look around the Baie du Mont Saint-Michel. The view over the Baie is also more than unique. 
Looking at the above pic could make you think that the world ends after the island. 
---
People returning from Le Mont Saint-Michel by bus and on foot.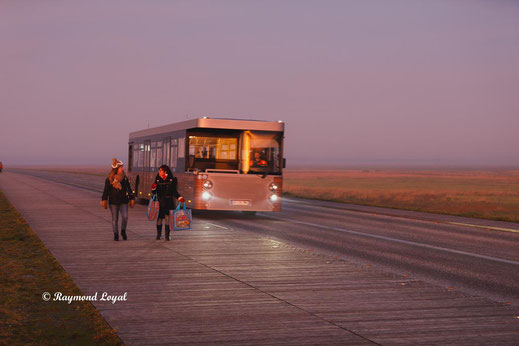 Mont Saint-Michel is a tourist magnet with hundreds of people arriving there every day. A bus transfer is organised that ferries people from the mainland to Mont Saint-Michel and back.
It is possible to walk the short stretch of about 2000 m as can be seen in the pics above and left. Tourists do some shopping at Mont Saint-Michel and after a day out they return to their hotels on the mainland.
The light was changing fast during sundown at the Baie du Mont Saint-Michel. We only shortly decided to go out and have a last look at the monastery. It was gorgeous. And, not to have gone there would have been such a miss. A dream for any photographer and also for anyone, simply loving nature.
Casting your eye back over the mainland you see the typical coastal landscape. And then there are moments when fading light, at the end of a day, produces colours that makes moments special.